Bidding with Full House Auction at one of our auctions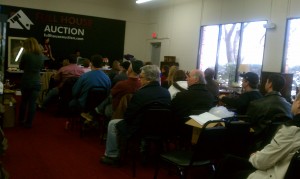 . 
Bid Terms and Conditions at Full House Auction
It is the Bidder's responsibility and obligation to read such Terms and Conditions, and, by bidding, the Bidder agrees to be bound.
Full House Auction Bid Terms & Conditions:
All purchases are to be paid in full on day of sale and prior to removal from premises.
The auctioneer has the absolute discretion to a) pass or withdraw a lot from sale at any time prior to its actual sale; b) refuse to recognize any bidder; c) refuse to recognize any bid; d) resolve any dispute between bidders or resolve any doubtful bid by deciding who is the successful bidder or nullifying the auction of the lot and re-offering it for sale. The auctioneer's decision is binding as to disputes arising at auction. If a dispute arises post sale, our records of the sale shall be conclusive.
All items are sold "as is, where is." Full House Auction makes no warranties, guarantees or representation, express or implied, with respect to the items for sale, further attribution, authenticity, size, genuineness, provenance, historical relevance or significance, physical condition, importance, quality, quantity, rarity, period, culture, source or origin are presented as statements of opinion only. Bidders are responsible for thoroughly examining any item to determine condition, age, genuineness, value or any other determinative factor prior to bidding on an item.
Full House Auction will attempt to describe every lot to the best of our ability.  The absence of condition language in a description does not imply or mean that the item is free of flaws, damage or other condition issues.  A condition report may be requested for any item up to 24 hours prior to the sale date.
Full House Auction will bid on behalf of our consignors, via absentee bids, if they desire.
Full House Auction, its agents or representatives are not liable for any injury damage, or loss incurred during or associated with the sale.
Purchaser assumes full responsibility including risk of loss and damage for items when "sold."
Statements made on auction day shall take precedence over all previously written material.
Method of Payment: Full House Auction accepts Visa, MasterCard, Discover, cash, cashier's checks, and business checks. Personal checks will not be accepted.
Payment Terms: Bidder acknowledges and agrees that a 15% (fifteen percent) buyer's premium will be added to the hammer price on all lots for which they are the successful bidder. In addition, there will be a 6% (six percent) charge for Maryland state tax unless the Bidder presents a valid Maryland state tax exempt ID certificate for qualifying purchases. Bidder further acknowledges that they are responsible to pay Full House Auction the aggregate of the hammer price and the Buyer's Premium for such lot(s). All invoices must be paid the day of the sale no later than the close of the auction.
Property Removal: all purchases are to be removed same day at purchaser's expense from the premises immediately following the sale, unless otherwise agreed upon between purchaser and Full House Auction.
Shipping at Full House Auction
It is the buyer's responsibility to remove items from the premises on the day of the sale, unless alternate arrangements have been made with Full House Auction. For those who bid from out of town, we use USPS Priority Mail flat rate boxes. If your purchases are too big for one of these boxes, please call us to have a special shipment arranged.
Contact us today for more information regarding our estate sales in Maryland!